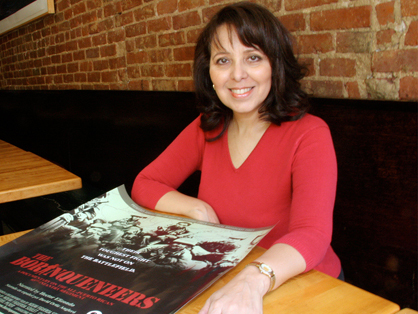 Noemi Figueroa Soulet had a background in Hispanic commercials and acting and was planning on becoming a dance therapist, but somehow the story of the Puerto Rican 65th Infantry Regiment, the only Hispanic-segregated unit in Army history during World Wars I and II and the Korean War, lured all of her attention. So much so, that the Nuyorican, without any filmmaking experience, dedicated nearly a decade of her life to creating her first and only documentary, "The Borinqueneers," in order to tell their story.
"The Borinqueneers" is the first major documentary to chronicle the story of these forgotten soldiers. The one-hour version premiered nationally for the first time on PBS in 2007, and the Armed Forces Network aired the film to more than 850,000 U.S. troops overseas. Having won many awards in the past five years, throughout the U.S. and Puerto Rico, it's screening again
on Saturday, November 17, at the 2012 International Puerto Rican Heritage Film Festival in New York City.
"I've always been interested in Latino issues and trying to show positive role models and show that we are the fabric of society," says Soulet, producer, director and writer of "The Borinqueneers." "If anything proves that, it is the service of our soldiers – that's the ultimate sacrifice."