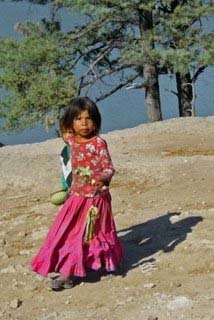 I had read about this wonderful train ride that originated in Chihuahua, Chihuahua probably about fifteen or twenty years ago. I knew that was a trip I had to take, but other things in my life were going on, and that trip was placed in the backburner of my mind. Even in retirement, it seems other events took precedence, but early in 2007 I decided that if I didn't do that trip, I might not get to do it at all.

Excitedly, I searched for different tours, but the safest one for me was going with Elderhostel. They cater to able, active senior citizens. So, even though it was not the cheapest one of the tours, I signed on for the Copper Canyon trip in May 2007. I was really happy with the program from the very first night at the Davis Mountain Education Center in West Texas.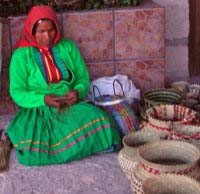 The train ride was nice, the scenery impressive, but I was especially intrigued by the Tarahumara Indians. The women weave these wonderful baskets using pine tree needles. The children sell trinkets to the tourists. Many of the men still wear their native dress even though the Mexicans in town wear modern dress.

I would love to make the trip again, but would like to have hubby and son accompany me next time. There are so many places yet to see and do. Reminds me of the Jack Nicholson/Morgan Freeman movie,

The Bucket List.

Thankfully, neither of us have gotten the medical news that we have only a short time to live.